Here's what we know about people in the United States who visit cultural organizations.
We know a lot about people who visit cultural organizations! When organizations report any information at all about membership or visitor satisfaction, they are talking about the perceptions and behaviors of people who have recently visited a cultural organization. In fact, much of the information on this site is about active visitors to cultural organizations.
Last week, I shared an article and a video outlining the percentages of the population who are active, inactive, unlikely, and non-visitors to cultural organizations. This week, I'd like to drill down a bit more into active visitors – those folks who have visited a zoo, history museum, science center, or other cultural organization within the last two years.
At IMPACTS, we refer to these people as "active visitors" –  or "historic visitors," as their characteristics make up an evolving historic visitor profile. I will use the terms interchangeably in this article.
Here's what you need to know:
16% of the US population visits cultural organizations
Research shows that kind of people who visit cultural organizations are the kinds of people who visit cultural organizations. That type of person currently represents 16% of the US population. If this number seems low to you, it's because our industry tends to count the number of times that doors swing at cultural organizations, rather than the individual pairs of feet that come in those doors.
In other words, cultural organizations generally engage the same people – and similar types of people. The profile of the kind of person who visits a historic site is not wholly different than the kind of person who visits art museums or symphonies. In the scheme of demographics, psychographics and behaviors – these folks are more alike than different.
For example, a top, shared characteristic of active visitors to any cultural organization is that their household income (HHI) is $113,0000/year. While this does differ by organization types a bit – active history museum and historic site visitors earn $98,000 as a top, shared attribute each year; art museum visitors earn $119,000 –this data largely encapsulates a similar type of person. (This isn't to say that everyone visiting a museum or performing arts entity has a HHI of over $113,0000, but that this HHI is one of the most shared characteristics amongst people who have visited one in the last two years. It is not the average amongst all visitors combined, but a most-prevalent, shared attribute amongst individual visitors.) A reasonable goal may be for household incomes to be so diverse that they don't make a list of shared characteristics among visitors at all.
There's room for improvement! Having active and inactive visitors is an economic reality for goods, services, and experiences – not a failure! That said, an obvious goal is for a higher percentage of the US population to qualify as an active visitor to cultural organizations by having visited one in the last two years.
Active visitors are not diverse (yet)
So, what are the top shared attributes amongst people in the US who have visited any type of cultural organization in the last two years? Here's what our active visitors look like, folks!
These attributes paint the picture of an educated and wealthy person. And the single most-shared attribute among people who visit cultural organizations is that they are not racially diverse. They are white, non-Hispanic individuals.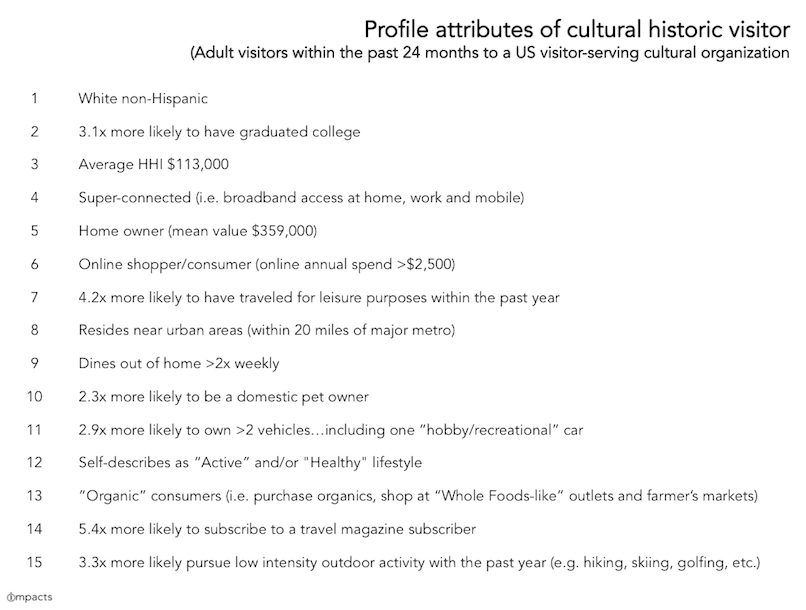 My experience in sharing this information (and the similar profiles cut for specific organization types) is that leaders tend not to be altogether surprised by the lack of racial diversity and that they are educated. The surprise comes from the more hidden profile attributes – such as being more likely pet owners or describing themselves as having an "active" or "healthy" lifestyle.
It's also worth sharing that millennial active visitors differ from active non-millennial visitors in meaningful ways. Millennial visitors are notably more diverse – though not diverse enough to influence the overall active visitor profile. In other words: Traditionalist, Baby Boomer, and Generation X visitors to cultural organizations are so not racially and ethnically diverse that they keep "white, non-Hispanic" at the top of the list when it comes to most shared characteristics of active visitors when all generations are considered together. This occurs despite the fact that race and ethnicity don't even make the list of the most shared millennial active visitor attributes.
Millennial active visitors are an exciting type of person for cultural organizations – and they are worthy of their own data-driven deep-dive in the future. Notably, they are 7.8 times more likely to volunteer than an average person in the US, are 11.6 times more likely to donate to a nonprofit organization, and 6.7 times more likely to sign a petition in support of a candidate or cause. These are not among the top characteristics of non-millennial visitors. That isn't to say that non-millennials don't volunteer or donate funds (obviously), but that other characteristics are more prevalent among non-millennial visitors, such as owning a recreational vehicle and living in a suburban area.
The need to engage new audiences is urgent
 Oh, negative substitution of the historic visitor! If you're a regular Know Your Own Bone reader, then you know all about it.
Considered in terms of the overall exhibit-based organization landscape, for every one historic/active visitor who leaves the market in the Unites States (by way of death, relocation or immigration), they are replaced with only 0.948 people (by way of birth, relocation or migration). Incidentally, the situation for performance-based cultural organizations is even more dire with 0.922 people entering the market to replace every active visitor exiting the market. We refer to this phenomenon of more people exiting the market than there are entering the market as "negative substitution" – and it is a major reason why cultural organizations risk engaging fewer visitors over time.
Negative substitution is taking place because the market is growing more diverse, while perceptions of cultural organizations as being places for a certain kind of person have remained largely static.
This finding means that if we keep reaching only the people who are already coming, cultural organization attendance will continue to decline relative to population growth. And this is even if we keep evolving to do everything that makes current visitors happy – from programs to social media marketing. The US simply isn't making more of those kinds of people relative to others.
One of our problems is negative attitude affinities. This means that people associate negative opinions or feelings with cultural organizations – namely that they don't feel welcome or "fit in." IMPACTS data shows that, on average, approximately 4 out of 10 people in the US don't feel comfortable at an art, science, or history museum – including science museums and historic sites. About 2 out of 10 people don't feel comfortable at a zoo or aquarium. And, when it comes to performing arts organizations (including symphonies, orchestras, dance companies, and live theater organizations), nearly half of the market possesses a worrisome perception that the performing arts aren't "for people like me."
Historic audiences are still critical
While the need to engage new audiences is urgent, we must not stop satisfying people who currently profile as active visitors. After all, they are our audiences! These are the folks who actually attend- and we want them to keep attending!
The appropriate call to action is not simply to "engage new people," but rather to "expand our visitor profile." We need to change up and broaden the profile of people who have visited a cultural organization in the last five years, not wipe the slate clean… or alienate our most valuable constituents! Cultural organizations have a balancing act on their hands: attract new audiences while still engaging current audiences.
Thankfully, data shows that historic visitors and inactive visitors – or, folks who profile as having interest in attending cultural organizations but who have not done so in the last two years or longer – share some critical characteristics and interests. Inactive visitors are more diverse in terms of age, race, ethnicity, and income. As we'll discuss next week, engaging them needn't alienate historic visitors at all. In fact, successful initiatives generally don't "other" new audiences, but aim to seamlessly incorporate them into the tapestry of "who attends cultural organizations" by building more relevant programs and experiences.
Here's how we can expand this audience
Data shows cultural organizations are generally not succeeding in engaging new audiences, but are succeeding in engaging the same people more frequently.
Engaging people more often is good news! When organizations deploy audience research and evaluation to learn more about our current audiences and what they like and dislike, we are better able to create programs that keep them coming back! This may be especially helpful for increasing membership participation!
But audience research isn't likely to aid cultural organizations in reaching those critical new audiences who we need to engage in order to survive in a more diverse country. Inactive visitors are generally not onsite to fill out a survey or on an organization's email list. They have interest in visiting, but they aren't coming in the door. (As a reminder: Interest is different than intent. People can be interested in doing things that they do not actually intend to do. For instance, I am interested in visiting Iceland this year, but I do not intend to do so. There are other destinations that are higher on my list and, like many, my leisure time is limited.)
The key to changing up the historic visitor profile is to start activating these inactive visitors to attend cultural organizations. It is gathering market research, not just audience research, and aiming to understand the top barriers to visitation for people who have interest, but do not attend.
The first step in understanding audiences is knowing who we know most about: active visitors. We love these folks! They are our people! But our goal, of course, is to engage more and different people, too. A goal is to change up the characteristics of who visits cultural organizations and expand it beyond 16% of the US population.
Can we do it? Data suggests that we can… if we take the time to understand the people who have interest in visiting, but don't. Stay tuned – I'll be sharing information about inactive visitors next week.
Nerd out with us every Wednesday! Subscribe here to get the most recent data and analysis on cultural organizations in your inbox.